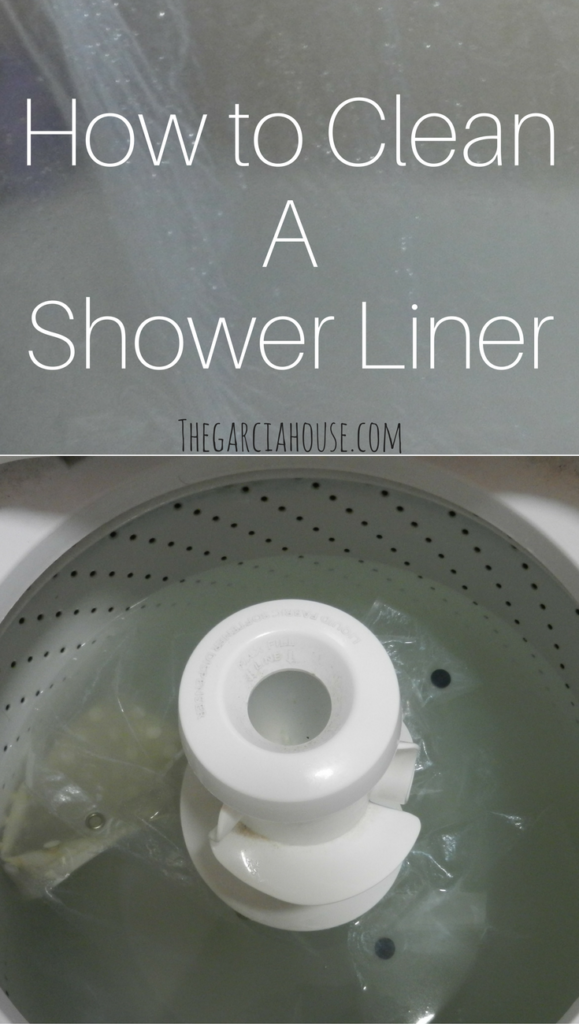 The fresh smell of a clean house is rewarding. It's nice to take a deep breath and not say, "Holy bajeezus! I think something died in our trashcan." Not that I would know from experience or anything....
So in an effort to help you guys get to that so-fresh-and-so-clean place, I'll be sharing several cleaning related posts in the coming weeks. And I truly hope you'll return the favor by dropping some comments of your favorite tips because I learn as I go. Specifically, I'm looking for a way to make dishes load themselves and laundry piles poof onto hangers and into drawers 😉
One of my least favorite things to clean is the bathroom. I mean, I think the reasons are obvious, right? I don't need to conjure up some detailed visuals of what all goes on in there. Any method I can come up with that involves minimal scrubbing and touching of things on my part, I am here. for. it.



I'm also not a fan of being wasteful, and once I figured out there was a way to get my shower liner and tub mat clean without scrubbing until my arms fall off, I was so glad that I wouldn't have to toss them and buy new ones.
Without further adieu, here's how I clean my shower curtain and bathtub mat!
First, a look at how gross they were before:
We have one bathroom in this house, so it gets a lot of use, and we also have hard water. I clean often, but it gets gross looking pretty quickly! I'd rather not have a bath mat for this reason, but toddlers are slippery uncoordinated water-beasts and need the extra traction.
And here's our dream team to get these guys squeaky clean: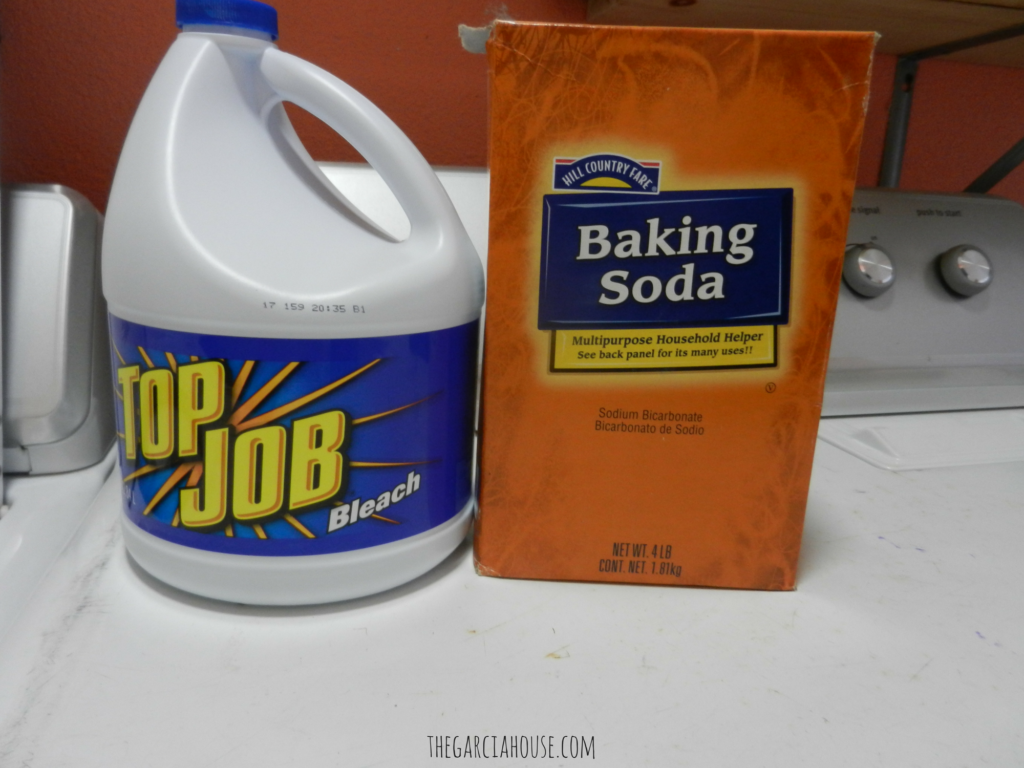 Set your wash size to Medium and water temp to Hot. Add 2-3 cups of bleach and 1 cup of baking soda. Toss in your liner and mat. For maximum effectiveness, allow them to soak for an hour or so before starting the cycle (I had other things to wash this day, so they got started right away). Once the cycle ends, hang your liner back up to drip dry and put your mat back in place. You're done!
Here's some before and after shots: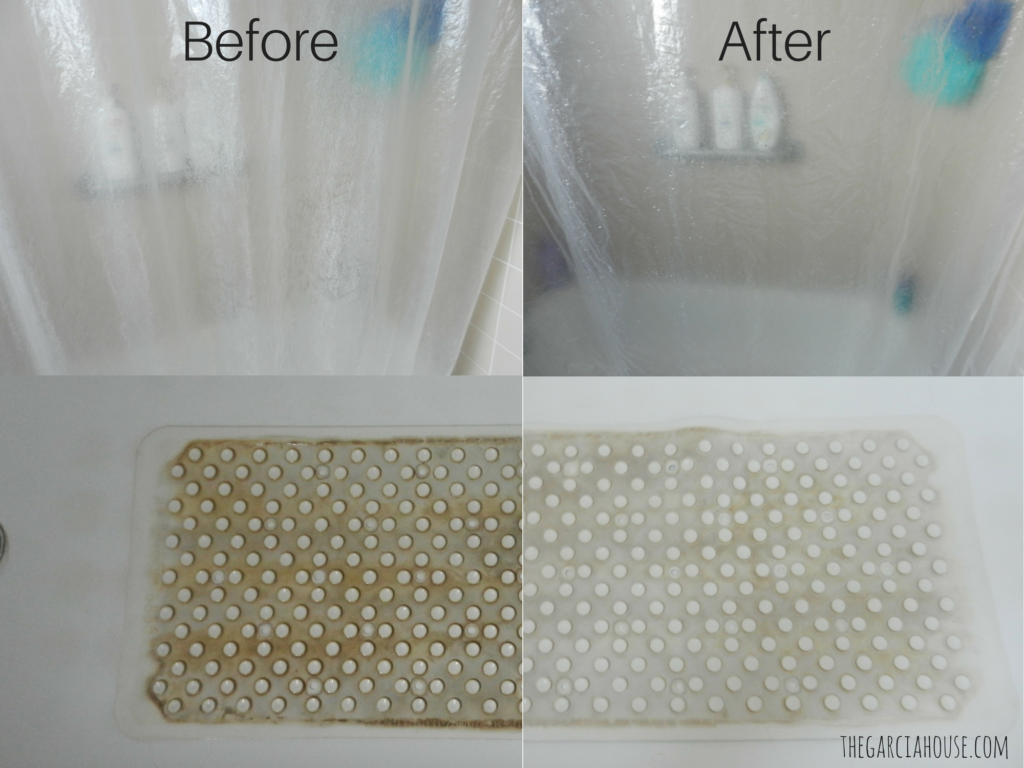 The mat still has some staining that will be permanent, but it's vastly improved. You won't be looking at this side anyway, so as long as I know it's been cleaned and sanitized, I'm not worried about discoloration.
And by the way, if your tub needs to be re-glazed (like mine), and stains easily on the bottom, a little bleach will probably remove those etched-in stains. I poured a bit on while the mat washed and rinsed it before putting the mat back: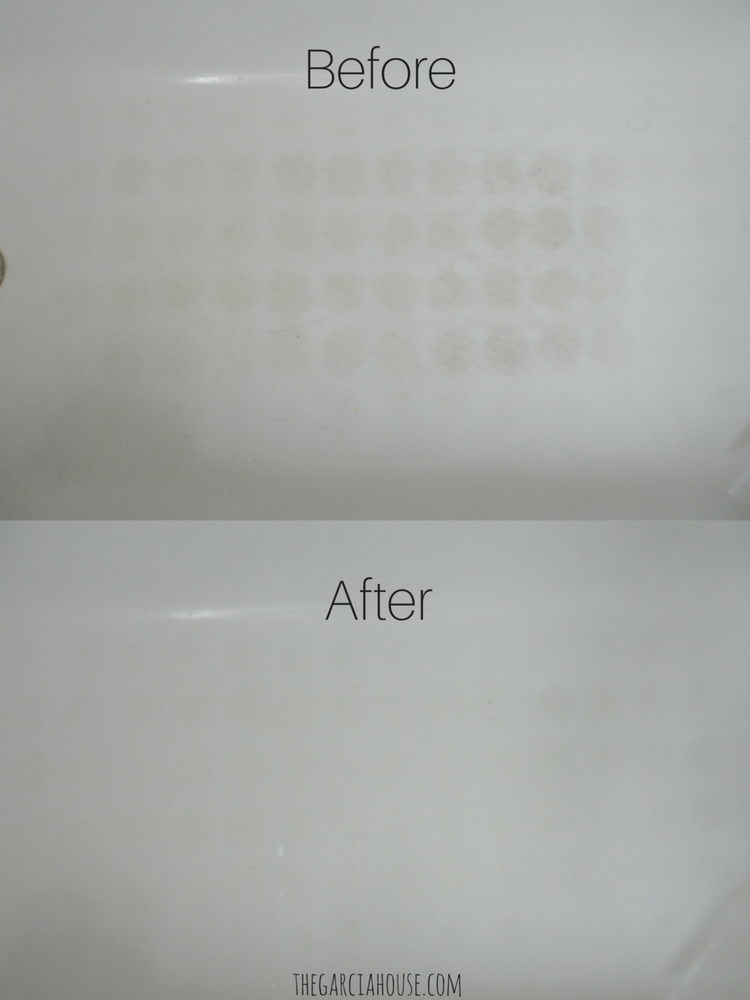 Much much better! In the near future, we're going to re-glaze the tub to prevent staining like that. We're also going to glaze over the tile. Of course, I'll share all those things with y'all on here!
Until then, y'all have a great week, and I'll be back soon with some more tips! Thanks for stopping by 🙂
Save
Save
Save
Save
Save